Description
Features:
Compatible with most manufacturers mini-modulator chassis
Front panel access to controls enables easy setup
135-Channel Range 54-860MHz (CATV 2-135)
>45dBmV min adjustable output for optimum carrier-to-noise performance
State-of-the-art digital phase-locked-loop (PLL) design guarantees precise frequency locking for solid drift-free operation
SAW (surface acoustic wave) filtered for superior adjacent channel performance enables drop-in channel expansion
In-band carrier-to-noise ratio >65dB ensures superior picture quality
Single-slot design allows up to 12 or 16 units in Pico Macom's MPC-12, MPS-12, MPC-12R and MPC-16PS/CS chassis
Automatic selection of aeronautical offsets (12.5kHz, 25kHz) for trouble-free configuration
Ships Free!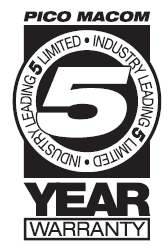 Specifications:
Output Frequency Range
54 to 860MHz
RF Output Level (min)
45 dBmV
Tuning
Agile
Carrier to Noise (in band)
60
Carrier to Noise (out of band)
66
Spurious Output
>55
Video Frequency Response
±1.2
Video Signal to Noise
56dB
Audio Input Type
MMA860
Mono
Video input connection
MMA860
75Ω F-Female
Audio Frequency Response
50 to 15000Hz
Audio Input Connection
10KΩ RCA-F Unbalanced
RF Output Connection
75Ω F-Female
Voltage Input
+5, +12VDC
Dimensions
1" (W) x 3.5" (H) x 7.5" (D)
Weight
1 lb.
View All
Close
Warranty Information
Pico Macom Warranties the MMA860 Universal-Chassis Agile A/V Mini Modulator for 5 Years.
View All
Close