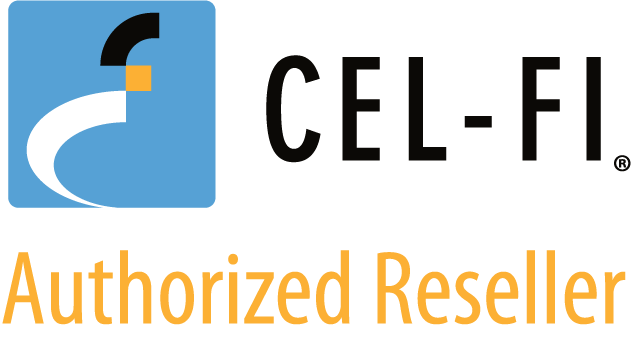 I'm excited to announce that Wired@Home.com is now an Authorized Dealer for the Cel-Fi by Nextivity, Inc. line of Smart Cell Phone Signal Boosters which are made in the USA!
The Cel-Fi Smart Signal Booster uses third generation all-digital advanced technology that outperforms analog repeaters. Cel-Fi enables clear and reliable indoor 3G/4G/LTE voice and data connections.
Cel-Fi Advantages:
All you need is 1 bar (more bars is always better) to get 5 bars from Cel-Fi.
Pure plug and play: no need for external antennas or cables. It auto-configures itself right out of the box.
FCC compliant: Cel-Fi is the only booster approved by the FCC for 100dB gain – that's 1,000 times greater gain than analog boosters.
Carrier approved: Cel-Fi has been approved by AT&T and T-Mobile for use on their networks.
Advanced technology: Cel-Fi system is powered by two proprietary multi-core processors.
Wider coverage: users get up to 13,000 sq. ft. coverage, making it ideal for large homes and offices. Multiple Units of Cel-Fi can be deployed in offices and will not interfere with coverage strength.
Ease of installation: Cel-Fi is a true "Plug and Play" system that doesn't require the installation of external antennas, bulky coaxial cables, handset registration, or a configuration setup by the user. In fact, Cel-Fi intelligently and automatically senses and adapts to its environment – including to changes made by your carrier, or to changes caused by near- by equipment like Wi-Fi, or other Cel-Fi devices.
Insanely Simple To Install - Watch The Video:
Cel-Fi Features:
Plug and play, simple installation – no external cables, antennas, wires, or drills needed.

Clean and compact industrial design.

Integrated antennas.

End-to-end cellular communication encryption without additional risk of vulnerability.

Support for the Nextivity Wave mobile & desktop application.

Unlocked: Cell phones do not need to be registered with Cel-Fi boosters to benefit.

Peaceful coexistence with adjacent Cel-Fi systems.

Intuitive LCD User Interface (UI).

Patented 2-unit, 3-hop system.

Remote software update capability.

Engineering Mode

Mounting brackets included with every unit
Here's an overview of the AT&T and T-Mobile versions now available:
Cel-Fi PRO Smart Cell Phone Signal Booster for AT&T 3G, 4G and 4G LTE
The only consumer Cellular Signal Booster authorized for use on the AT&T Network!
Cel-Fi DUO Smart Cell Phone Signal Booster for T-Mobile 3G, 4G and 4G LTE
The only consumer Cellular Signal Booster authorized for use on the T-Mobile Network.
Cel-Fi - Boost your signal and say goodbye to dropped calls!
No outdoor antennas, no cabling, no signal interference, no worries!
The Cel-Fi Smart Signal Booster is perfect for your home or office to minimize dead zones & reduce dropped calls. Nextivity Warranties the Cel-Fi products for 2 years and offers Free Tech Support.
Feel free to contact us if you have any questions or need more information!
Recent Posts
Wired@Home is now accepting Amazon Payments! Just look for the gold Pay with Amazon button (below) o …

Audioengine B2 Premium Bluetooth Speaker with 24 bit High Resolution Audio The Audioengine B2 brin …

In this segment of #TechTuesday, we introduce the DarbeeVision DVP-5000S HDMI Video processor w …