I know what you're thinking...your flat rate shipping of $4.99 is already low enough. Why yes it is...But, $3.99 is even lower. Lower is better because it saves our valued clients more money!
So, for a limited time, we are knocking another buck off the cost of our flat rate shipping. I must be a mind reader because I know the next question you are asking yourself...Yes, shipping is still FREE on all orders over $49. What? Yes, I know we're crazy but you will still get Free Shipping on every order over $49.00!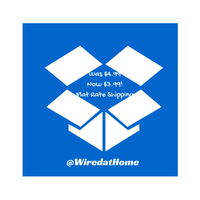 Better hurry though, I don't how long we can keep shipping this low!!!
Recent Posts
Wired@Home is now accepting Amazon Payments! Just look for the gold Pay with Amazon button (below) o …

Audioengine B2 Premium Bluetooth Speaker with 24 bit High Resolution Audio The Audioengine B2 brin …

In this segment of #TechTuesday, we introduce the DarbeeVision DVP-5000S HDMI Video processor w …