ZeeVee ZvCC1-NA Closed Caption Add-On Adapter Enhances HD Broadcast
SKU:

ZvCC1

UPC:

812254010076

Availability:

Backordered

Shipping:

Calculated at Checkout
Description
Pass up to 4 channels of Closed Captions to your HDTVs
ZeeVee is proud to offer the ZvCC™, an accessory that adds Closed Captions to your ZvBox's HDTV broadcast. In any application where crowd noise is a factor, or when the display is muted, passing on Closed Captions is critical-it allows the viewer to 'read' what is being said.
In the past, Closed Captions were passed in the invisible portion of the SD video signal. This functionality is not carried as part of the Component Video or VGA Video Standard, making it impossible to forward this very important information when broadcasting these sources.
Fortunately, many video sources like cable or satellite set-top-boxes and DVD players simultaneously output Composite (SD) video, which still contains the Closed Caption information. ZvCC decodes that video, extracts the Closed Captions, and forwards them to the ZvBox for inclusion in the HDTV broadcast. Just connect it to the VGA output port of the ZvBox (yes, the output port!) and you are automatically forwarding CC information. It's that simple!
Key features include:
Captures all Closed Caption streams

and forwards them to your HDTVs. Up to four streams are possible, each containing different information or language.

Control CC display at your TV

using your remote control.

No external power required

– cleverly obtains power from the VGA output port on the ZvBox.

No configuration required

– ZvBox firmware automatically detects the presence of the module, and forwards any Closed Captions that are captured.

Works with any ZvBox

that has Component video inputs. Make sure you have firmware revision 2.3.0 or better. Click here to learn more.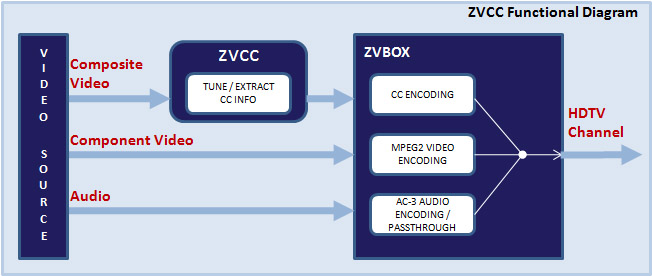 View All
Close