Pico Digital PD1000 Universal Digital Platform HD/SD Dense Encoder QAM System
SKU:

UPC:

MPN:

PD1000

Condition:

New

Availability:

In Stock - Ships Fast!

Shipping:

Calculated at Checkout
Description
The professional grade PD1000 HD encoder series allows the user to encode both HD and SD signals in MPEG2 or H.264 formats all in a single rack space. The HD encoder supports real time encoding and while giving the flexibility of two, four, six or eight encoder inputs in HDMI (in the clear), component and composite (closed captioning). The HD encoder offers simultaneous QAM and IP output. The PD1000 HD encoder series also has the ability for remotely controlled access and monitoring as well as virtual channel mapping. In addition, Dolby audio HD encoding is supported. Ideal uses for the HD encoder include commercial residential properties, academic and medical facilities, local area network applications for both CATV and broadcast as well as the hospitality industries.
Features:
Platform based encoder with up to four field hardware upgradeable dual channel encoder modules
Software upgradeable for future proof feature upgrades
Supports 480i to 1080p real time encoding and up to 8 HD video channels in MPEG-2 or H.264 formats in 1RU
MPEG Audio Encoding plus optional Dolby® Digital Stereo Creator
Output resolution same as input resolution
Inputs per dual encoder module - component, HDMI (clear) and composite/closed caption
Integrated support for Emergency Alert System (EAS)
Automatic detection of input type and format
Outputs four consecutive QAM channels
IP output – Unicast/Multicast, UDP/IP, SPTS
Simultaneous QAM/IP Output
PSIP tables allow user to configure virtual channel map for each channel
High output with 60 db Max. pre-combined
Secure management and configuration via easy to use web browser
External DC backup power supply
The PD1000 Universal Digital Platform chassis accepts up to 4 dual encoder modules (EM-2HD) and 1 output module (OM4).
The EM-2HD encoder module accepts up to 2 video inputs per unit, either HD or SD. Up to 4 of these units can be inserted into the PD1000 chassis for a total of 8 video inputs.
The OM4 output module provides you with 2 QAM channels with a maximum of 4 video signals per channel. The OM4 basic module generates either QAM or ASI signals and has firmware option (#OM4-IP) for IP.
Ships Free!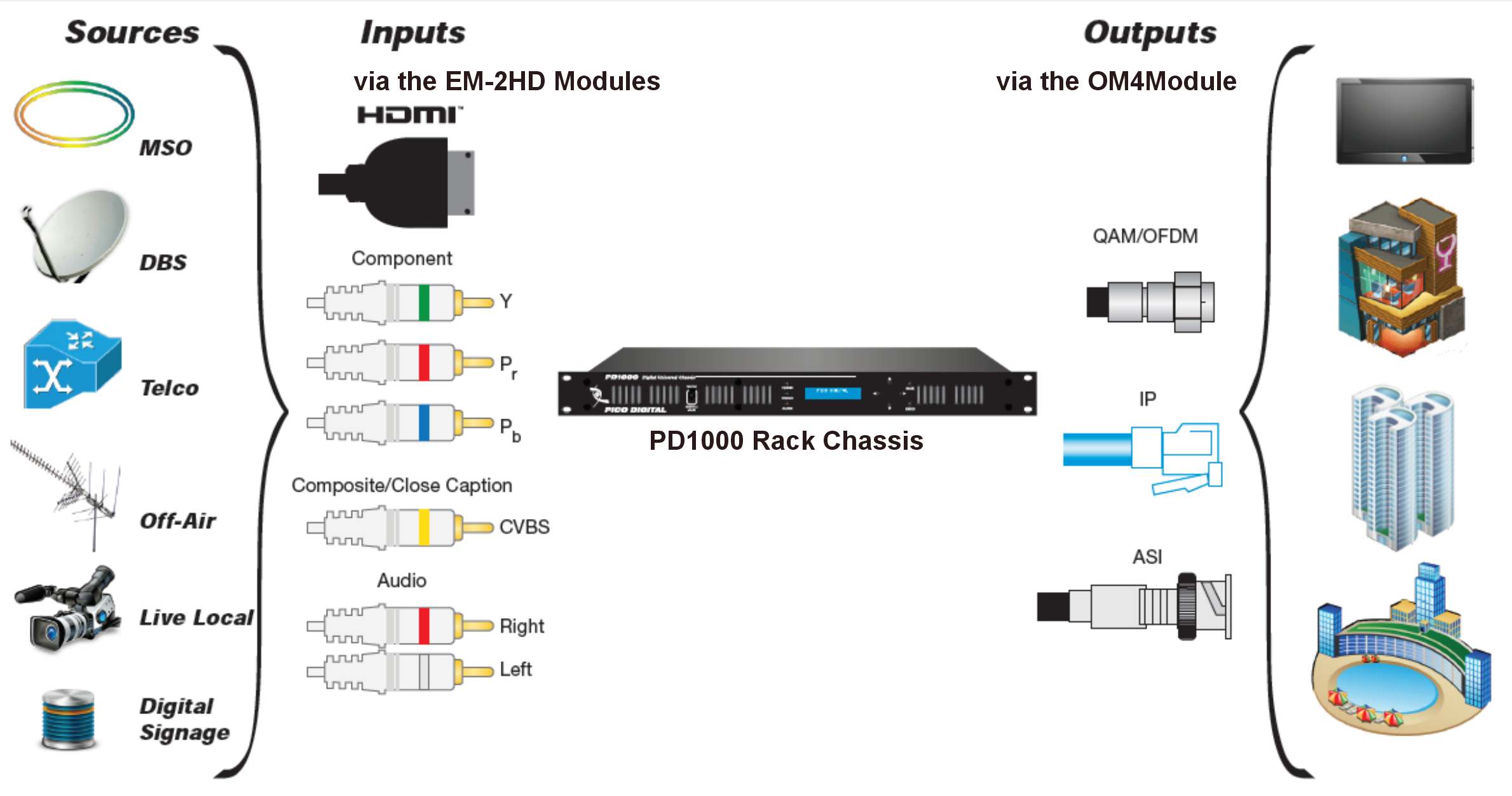 Specifications:
AUDIO/VIDEO INPUTS Per Encoder Module
HDMI
Dual Type A v1.4 (Clear)
Component
Dual YPrPb, (RCA)
Audio
Dual Stereo (RCA)
Composite/Closed Caption
Dual CVBS (RCA)
VIDEO FORMATS
In/Out Line Rates
1080p/1080i/720p/480p/576i/480i
Frame Rates
25/29.97/30/50/59.94/60
VIDEO/ AUDIO COMPRESSION
Video Codecs
HD and SD MPEG-2/H.264
Audio Codecs
Layer II, Dolby® Digital Stereo Creator
QAM/RF OUTPUT
Frequency Range
50 to 1002 MHz
RF Channel Count
4
Modulation Modes
QAM 64/256
QAM Type
Annex A/B
MER
> 40 dB
RF Level (pre-combined)
>60 dBmV
RF Level Adjustment Range (combined)
38 to 53 dBmV
Spurious
> 60 dBc
I/Q Amplitude Imbalance
< 1%
I/Q Phase Error
< 1°
Frequency Accuracy
± 100 Hertz
Phase Noise
100 dBc @ 10Khz offset
Amplitude Flatness
± 0.25 dB (over 24 MHz bandwidth)
Output Connector
F-Female, 75Ω
Front Panel Test Port
F-Female, 75Ω
IP OUTPUT (optional)
Connection
RJ45, GbE, Full Duplex, Auto-Neg
Addressing
Unicast, Multicast
Transport Protocol
UDP/IP
Transport Format
SPTS
MANAGEMENT
Connection
RJ-45, GbE, Full Duplex, Auto-Neg
Protocols
HTTP
User Interface
Web Browser
Browser Support
IE9 or later, Firefox and Chrome
EAS INPUTS
Video
CVBS (RCA)
Audio
Stereo (RCA)
Trigger
Terminals
INTERNAL AC POWER SUPPLY
Line Voltage
93-254 VAC, 47-63 Hz
Po
View All
Close
Warranty Information
Pico Digital Warranties the PD1000 Universal Digital Platform HD/SD Dense Encoder QAM System for 5 Years.
View All
Close